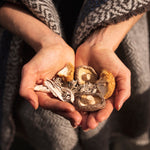 Grown and Harvested by U.S. Family Farmers
Our handcrafted herbal tea blends are made with functional mushrooms like reishi, shiitake, maitake, lion's mane, and chaga. They're sustainably grown and harvested by second-generation family farmers.

Mushroom teas are a cherished tradition across cultures, known for their immune-boosting properties. Our farmers are dedicated to growing the highest-quality medicinal mushrooms while keeping tradition and sustainability at the forefront. The result is some of the most nourishing natural mushroom teas around.

Our functional mushrooms are sourced whole—never as a processed powder—and carefully paired with supporting herbs in small-batches for optimal functionality and flavor.
learn more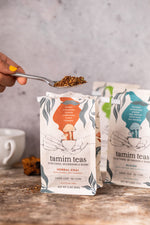 The Story Behind Tamim Teas
Tamim Teas was founded after a friend's recommendation for immune support. Liat, the founder, delved deeper and she discovered the rich history and therapeutic benefits of functional mushrooms in eastern medicine.

Sadly, mushroom products are often sold as instant, highly-processed powders and imported from questionable sources.

Tamim Teas is committed to pure, unprocessed goodness. With a Ph.D. in Ecology and a passion for traditional knowledge systems, she ensures that every sip you take is steeped in benefits and authenticity.

Like with all food, knowing the source and quality of your mushroom is crucial if want the best for yourself and mother nature.

By partnering with local organic family farmers and blending mushrooms with supporting organic herbs, Tamim Teas offers the best taste and health experience out there.
Read about us
Discover the Wonderful Benefits of Mushrooms
The benefits of functional mushrooms have been known for over 2,000 years in eastern medicine.

From cognitive-enhancing lion's mane to the antioxidant-rich chaga, we offer a diverse range of authentic mushroom teas rooted in centuries-old traditions.
Whether you're looking to boost focus, support adrenal health, or simply enjoy an exotic treat, there's a blend tailored for you. 
Let customers speak for us