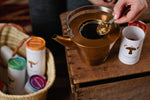 Delicious Hot Drinks for Winter That Will Warm You from Head to Toe!
Winter drinks and seasonal brews are some of the best parts of this time of year! 
Spicy cinnamon, warming turmeric, and delicious mushrooms can all combine to create delicious (and nutritious!) brews that heal the body and the soul. 
Let's look at a few of our favorite non-alcoholic winter drinks (including a number of organic mushroom tea drink recipes) that you and the entire family can enjoy on one of these cold nights!
Chaga Chai Latte
Here at Tamim Teas, there's nothing we love more than a delicious Chaga mushroom chai tea latte. 
Our delicious and naturally decaf chaga chai blend is bursting with spicy and warming flavors of clover, cardamom, cinnamon, and more! No need to be afraid of bitterness, either. Our chaga chai doesn't have any actual tea leaves or caffeine.
This means you can let it steep or simmer for long periods, filling the air with a heartwarming cozy chai smell and your cup with delicious flavors and powerful adaptogens that comes straight from the all-organic and locally sourced chaga mushrooms.
For this recipe, simply brew the chaga chai as directed. Then, in a saucepan, combine a cup of milk of your choosing with two tablespoons of creamer (try it with oat milk for a thick and creamy latte!) [1].
If you want a bit of sweetness, try adding in some maple syrup or agave. You can also change up the flavors with different syrups and additions like a pumpkin syrup or a vanilla whipped topping.
Chai-der
Combine the warmth of Chai with the freshness of apples with a "Chai-der": equal parts Tamim Teas Chaga Chai and fresh & crisp apple cider.
Prepare the chaga chai and then get your apple cider ready. You can choose to warm up the cider and make a warm chai-der, or you can chill both the chaga chai and the cider for a refreshing cold beverage.
If you're looking for an extra delicious seasonal twist, try adding in some caramel and a cinnamon stick for a bit more of a warm & spicy kick. 
Tea-Infused Hot Cocoa
Hot cocoa is a traditional winter drink that can be made more unique with a bit of infused tea! Adding tea to your hot cocoa will cut through the richness of the chocolate and add in warming spices like cinnamon, turmeric, and more depending on what tea you choose!
To prepare, take your favorite hot chocolate recipe and get to brewing. We'd recommend recipes that use real chocolate. Don't be afraid to switch it up here — try different types of chocolate and different flavors, like peppermint chocolate, white chocolate, and others. 
Feel free to use any type of milk you like as well; any will work! Soy milk and oat milk are great options for those looking for dairy-free recipes as these have the thickness and consistency that's close to traditional hot chocolate with dairy milk [2].
Now for the tea. Take some tea that you think would go well with chocolate and simply infuse & brew it in the hot chocolate instead of water. This will bring notes of delicious tea into your drink, giving you a unique twist on a classic.
Our Reishi-Chaga Boost is a great option for this recipe; the carob and elderberries within the blend go amazingly with chocolate. Our Reishi Delight is another great option — with hints of orange and cinnamon, this makes your hot chocolate taste like the holidays in a cup.
Tamim Teas Has All the Best Hot Drinks for Winter 
Another benefit of all of these delicious winter drinks is that they can be made with mushroom tea packed with nutrients, vitamins, and powerful adaptogens. 
These can help boost your immunity to help you fight off the winter sniffles. Not only that, but the mushrooms in our teas have also been linked to relaxation, improved mood, and increased energy [3, 4].
Check out all of our mushroom tea options by clicking on the button below. You can also learn more about the benefits of mushroom tea here.