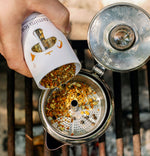 Tea Infusers and Tumblers: The Different Options Tea Drinkers Have
Whether you are looking for a new type of tea to experience or have some health setbacks needing a natural remedy, mushroom tea offers a large range of usefulness. This article outlines the process for handling your mushroom tea, everything from proper steeping to transporting.  
Worth noting at the top is that mushroom teas have developed a positive reputation for their many health advantages. For example, some lion's mane tea benefits range from improved focus to increased brain health[1]. The tea may even prevent memory loss and neurological damage[2]. Medical experts have found that the nutrients in this tea can protect your cells against damage and reduce inflammation[3]. Lion's mane tea can even improve your mood. Tea drinkers have reported feeling decreased depression and anxiety after ingestion[4]. 
Traditionally, mushroom tea is made by steeping mushrooms in water, and medicinal mushrooms in tea have the potential to improve your wellbeing. However, at Tamim Teas, we don't want people experiencing mushroom teas that are bland, tasteless, and sourced from weak unknown extracts. Our mushroom teas only use organically sourced mushrooms and organic herbs to create mushroom tea blends that are delicious, health-promoting, and unforgettable!
To help you prepare and enjoy your mushroom tea experience to the fullest, here are 5 helpful tips that range from tea preparation to innovative teaware products.
#1: Start with Quality Ingredients
For the best mushroom tea experience, you'll want to start by sourcing all-organic mushroom teas, stay away from imported extracts and powders from unknown sources that deliver little flavor or health benefits. Try our Lion-Maitake Clarity, Chaga Chai, or Reishi Chaga Boost to start! 
#2: Amount of Tea
We recommend one heaping teaspoon for each cup of water.  On average, we recommend steeping for more than 15 minutes, and encourage re-steeps! In some traditions, even gently simmering for 1-2 hrs is commonplace.  has proven to be a sufficient amount of time for tea steeping[5]. You'll find that with practice, you will develop a perfect-to-you steep time and taste ratio.
#3: Water Temperature
You might be surprised to know that water temperature can impact mushroom tea. Brew the tea with a gentle simmer or under boiling point. The amount of steeping time can also change its flavor.
#4: Tea Steeping
There are specific things to keep in mind when steeping tea. Steeping refers to the process of extracting nutrients and flavors from tea into water[5]. Proper steeping can make or break the quality of the tea's taste. Steeping can be done with a traditional tea bag, but you can also use loose leaf tea with an infuser. When tea is infused well, the result is a flavorful and enriching tea drinking experience. We do not sell Tamim mushroom teas in single-use bags or containers to minimize waste and keep the taste pure!
Tamim's teas don't get bitter when steeped for long periods compared to other mushroom tea companies. This is due to the fact we do not use extracts or synthesized ingredients; the flavor is more robust; the teas release more flavor and nutrients over time, so you can keep your mushroom tea steeping as long as you'd like - a little of our mushroom tea can go a long way.
#5: Tea Infusion Options
There are different ways to enjoy your favorite teas. Though you may use the traditional teapot, consider trying other methods to yield an even better tea drinking experience.
Tea Infusers
Tea infusers are containment vessels composed of mesh-like materials. They come in a wide variety of sizes and hold tea while steeping in hot water - they are effective and eco-friendly alternatives to single-use tea bags.  
At Tamim, we've made it a priority to provide our customers with tea infusers that are easy to clean, produced responsibly, and long-lasting. Our classic 2" stainless steel ball infuser is great for single servings! 
If you want to infuse an entire pot of tea for larger gatherings of friends, family members, or coworkers, check out our gorgeous 25oz glass teapot with a built-in tea infuser! It's easy to clean, looks fantastic, and produces delicious tea! Our tea infusers are constructed with fine stainless steel mesh to prevent any tea ingredients entering your drink. The result is a strong, tasty flavor that is fresh and unaltered from the source. 
Tea Tumblers
We also sell a luxurious tea tumbler with a built-in infuser. These travel mugs close securely at the top, meaning that you can take them anywhere without worrying about spills. If you're out for the day and can't carry an open mug, a tea tumbler is a perfect option for your daily cup. 
Incredibly versatile, our tumbler fits most car cup holders, or you can toss it into a bag and bring it to yoga class, on the trails, or to work (even at home!) to stay healthily sipping throughout the day. The tumbler is BPA-free, BPS-free, and Phthalate-free, not to mention it comes in three different colors! The tumbler is the perfect way to keep your tea hot or cold and always fresh! Triple insulation keeps drinks hot for up to 8 hours or cold for up to 36 hours.
Enjoy a Cup of Tamim Tea!
Tamim Teas features some of the best medicinal mushroom tea blends available. Our mushroom blends are 100% natural; they have no added caffeine, sweeteners, or processed ingredients. 
The benefits of mushroom teas, tea infusers, and tea tumblers are plentiful. If you're a tea lover, give the
tea blends
and
teaware
a try, or better yet, give someone the
gift of mushroom tea
!