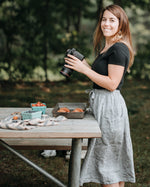 Mushroom Art Spotlight: Jenn Bakos

Jennifer Bakos
Food and Product Photographer 
How did you get started?
I grew up drawing, painting and then got a camera when I was young and began documenting family life. Eventually I went on to art school and photography school where I was able to launch my career after graduation.
What is your favorite part of mushroom photography?
I love anything to do with nature and learning about mushrooms has become so fascinating. I really enjoy all the mushroom textures, colors and seeing which different ones pop up throughout the season. I like to capture them through a mushroom identifier app as well and learn about the different properties of medicinal mushrooms. 
What is the most difficult part of taking mushroom photos?
Honestly, self comparison is really tough. With everyone showing their best work online and social media, it can feel like you have imposter syndrome every day. It forces you to think more about the "why" behind what you do, and that helps bring you back. 
Tell us something most people don't know about you?
I like to knit and read tarot cards for fun :)
Favorite Tamim Teas Mushroom Blend?
Check out their website: https://www.jennbakosphoto.com/
Follow them on instagram: https://www.instagram.com/jennbakosphoto/