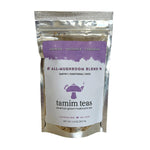 Discover a Mushroom Tea Recipe Blend Featuring 5 Healthy Mushrooms
Our new wellness mushroom tea recipe blend features a rich combination of chaga, lion's mane, maitake, reishi, and shiitake mushrooms. Learn more below!
The popularity behind mushroom consumption continues to grow, which is why we've created our newest mushroom wellness tea. This All-Mushroom Blend is full of earthy, functional mushrooms that can be used at any time of the day. This mushroom tea recipe features only mushrooms, unlike some of our other teas which include other healthful herbs.
Continue reading to learn about this special all-mushroom tea blend and some of the benefits of these wonderful mushrooms included within. 
[insert product]
What is mushroom tea good for?
Mushroom tea can have a strong, rich, earthy taste, and it is also good for supporting our body and mind's needs. 
Mushroom tea has been traditionally used by many different cultures around the world for healthful purposes. Today, this drink can also be found at many local grocery stores across the country or through online retailers like Tamim Teas. Mushrooms have become popular due to its high levels of antioxidants which may help protect against free radicals that contribute to heart disease and other illnesses.
One benefit that makes mushroom tea good for us is that mushrooms are a source of prebiotics, which help support a healthy gut environment [1].
Similarly, mushrooms contain polysaccharides including beta-glucans, which are a form of soluble fiber that may provide benefits like lowering cholesterol and the ability to strengthen the immune system [2].
Polysaccharides are also known to have anti-inflammatory properties that may help improve skin conditions such as acne or eczema [3]. 
Can I drink mushroom tea everyday?
Yes, you can drink mushroom tea everyday! Our All-Mushroom tea recipe has no caffeine, so you don't have to worry about it keeping you up at night. Some people like to have multiple cups of mushroom tea throughout the day, alternating between various blends. 
For instance, this All-Mushroom blend is great anytime of the day, but you might want to try the Lion-Maitake Clarity mushroom tea in the morning for the functionality that someone wants when seeking clarity.
Is mushroom tea good for weight loss?
We have been asked many times if mushroom tea can help people with weight loss. There is some anecdotal evidence to consider from Nature, which published a study called Ganoderma lucidum reduces obesity in mice by modulating the composition of the gut microbiota. This study states, "that G. lucidum mycelium prevents dietary-induced obesity and alleviates inflammation by modulating the composition of the gut microbiota and maintaining intestinal barrier integrity [4]."
We also want to make sure that you recognize that these statements have not been evaluated by the food and drug administration. This product is not intended to diagnose, treat, cure, or prevent any disease.
How to enjoy this new all-mushroom tea recipe blend at home or on the go
To begin brewing, start with a heaping teaspoon of our All-Mushroom Blend for every cup of water you plan on using. For instance, if you wanted to make a gallon of mushroom tea for yourself and others, you would use 16 teaspoons of our mushroom tea blend.
Next, get to steeping! A long steeping time will make your mushroom tea blend more flavorful. We recommend steeping your tea for 20 minutes or more if you really want to have a flavorful experience. As with all of our teas, steeping not only unleashes more flavor, it also allows for more nutrients to be extracted from the mushrooms. Please feel free to steep your tea for this length of time without the flavor becoming bitter.
You are ready to enjoy your tea once you've completed the steeping phase! Try drinking your first cup without anything added to it. A little honey can be added if you want a slightly sweeter drink. You can also mix our tea blends together for an extra boost of mushroom goodness. This all-mushroom recipe also works great as a nutrient-rich addition for soups and stews. 
Buy some of our All-Mushroom tea recipe blend now to experience the magic of these mushrooms!