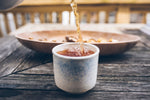 Learn how to make mushroom tea, including some of our awesome recipes for you to try
If you are curious about how to make mushroom tea, then you've come to the right place. We'll show you how to make mushroom tea at home so that you get the best cup each time. These tips, and the use of our blends, will make your mushroom tea stand out from the crowd. We'll even teach you about the benefits of mushroom tea and everything you need to know about storing your mushroom tea for later use. 
First, let's get into the most important ingredients for how to make mushroom tea.
How to make mushroom tea: Ingredients to consider
The mushroom tea industry is growing quickly worldwide, and so too are the number of people interested in tea. The most important ingredient in making mushroom tea is good-quality organic mushrooms. This is true regardless of the mushroom species used. In order to make the best tasting mushroom tea, you must take into consideration how and where the mushrooms were grown or wild harvested. 
At Tamim Teas, we offer an array of organic mushroom tea blends that go beyond the usual options. All of our mushrooms are either grown on independent family farms, or they are responsibly wildcrafted. 
All of our functional mushroom blends are flavorful and healthful. Take a look at all of them now, or read on to learn about a few of our popular blends.
A sampling of our flavorful mushroom tea blends
Reishi-Chaga Boost: This mushroom tea blend features organic chaga and reishi mushrooms, consciously wildcrafted in New England. These two functional mushrooms are combined with roasted carob, elderberries, and red rooibos tea.
Chaga and reishi are two popular mushrooms that have been used for thousands of years traditionally and are still being studied today for their purported benefits in supporting immune system health. 
Lion-Maitake Clarity: If you're looking for a mushroom tea blend featuring both a floral bouquet of flavor and the right amount of spice, then you need to try tea. We've combined lion mane's mushroom and maitake mushroom to create a healthful, earthy base. We then add tulsi, cinnamon, and ginger for a zesty, rich flavor to brighten your day and your mind.
When we reference 'brightening the mind', we really mean it. Studies have shown that lion's mane mushroom may have a positive impact on cognitive functioning [1].
All Mushroom Blend: If you're like us, you may want to be consuming as many functional, adaptogenic mushrooms as you can. With our All Mushroom Blend you get the best of all worlds, with a combination of chaga mushroom, lion's mane mushroom, maitake mushroom, reishi mushroom, and shiitake mushroom. This blend also goes great as an addition to soups and stews for a delicious, healthful meal in the colder weather.
How to prepare mushroom tea
After you've selected and received your mushroom blend from us, you can begin making your own delicious mushroom. Here is how we make mushroom tea at home:
Determine how much tea you want to make. Use a heaping teaspoon of mushroom tea blend for every cup of water you intend on using.
Next, steep or gently simmer your mushroom tea blend. Brew for long periods of time if you want to experience a stronger flavor. Steeping for 20 minutes or more doesn't only make more flavorful tea, it also allows more time for nutrients to become available. 
Be sure to not burn your mushroom blend, or the flavor of the tea may become bitter. 
Benefits of drinking mushroom tea
Mushroom tea has a long history and has been used for its medicinal benefits for many years. However, it is only in the last decade or so that mushrooms have become known for their health benefits by mainstream American culture.
You can learn more about the benefits of drinking mushroom tea by checking out these articles we've created:
How to store mushroom tea
You can store your mushroom tea if you have some left over. Simply pour the leftover mushroom tea into a sealable container with a lid. Glass containers like mason jars are a great option. Place the jar containing the mushroom tea in the fridge. It will stay good to consume for a few days in this condition. You can either reheat the mushroom tea on the stove before drinking it, or you can enjoy it cold. 
We hope you now feel more confident in how to make mushroom tea at home. Give all of our mushroom tea blends a try to find the one that fits your life the best.