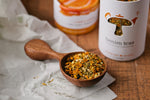 Not All Types of Mushrooms Are Created Equal — Different Mushroom Tea Recipes for Different Moods
For many, mushrooms may be best used as an addition to a pizza or thrown into a stir fry. 
However, did you know that mushrooms are some of the most nutrient-dense edible organisms on the planet?
In fact, some mushrooms have no culinary tradition but have been brewed exclusively as a tea for centuries to reap the benefits of nourishing antioxidants, vitamins, and adaptogenic chemicals, to name a few, that can benefit your health in a number of ways.
Mushroom tea recipes leveraging the nutritional characteristics of the different types of mushrooms are one of the best ways to benefit from all that mushrooms have to offer. They're delicious, and hot water can make it easier to digest the mushrooms and absorb their precious nutrients.
Mushroom tea is also a great way to get the nutrients into your daily routine quickly and easily.
However, not all types of mushrooms are the same. Each mushroom tea recipe is unique, providing its own benefits. So, depending on what kind of mood you're in, the mushroom tea recipe that suits your fancy may vary. As a whole, though, medicinal mushrooms have been highly revered for their immune-supporting benefits.
Let's look at some key differences between types of mushroom teas and how each can benefit you.
Local & Organic Are the Key to All Mushroom Teas
First, we should start with something basic: local and organic mushrooms are essential to enjoying mushroom tea benefits.
Why?
To start, imported mushrooms from non-local sources can be sourced from anywhere. You have no idea whether the mushrooms in non-local teas are coming from a proper & healthy farm or if it's coming from a place with contaminated soil, water, or other subpar conditions. 
Locally sourced mushrooms give you a better guarantee that they're coming from a trustworthy and healthy source.
The same idea applies to organic mushrooms. Non-organically grown mushrooms could be processed, absorb harmful toxins and chemicals from the growing process, and overall become contaminated with chemicals and processing compounds that you do not want to be putting in your body.
All of our mushroom tea recipes at Tamim Teas have locally sourced and organic mushrooms for these reasons. We strongly believe that organic mushroom tea is the most healthful and safe way to ingest mushrooms.